What is Ruspo Relay?
Ruspo Relay 1 ( https://ruspo.com/relay1en.htm ) is an application (program) for desktops and workstations designed for connecting various analog audio devices (for example, two-way radios, intercoms, remote microphones, etc.), and controlling them via a local network or the Internet using VoIP technology (Voice over IP). The program is also used as an Internet repeater to connect geographically remote radio stations or other analog devices to each other.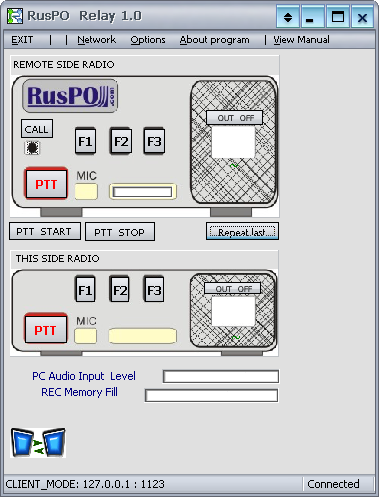 This program is popular among both radio professionals and amateurs due to its flexibility and versatility.
In general, thanks to Ruspo Relay, you can position operators or dispatchers where they are more comfortable, and two-way radio equipment – where they will work better.
The first version of the program was released in 2011 and still work around the clock in the possession of many users. This review relates to version 1.30, currently relevant (2020).

Ruspo Relay: Examples of Usage
Controlling of a remote transceiver (radio):

Controlling audio devices such as intercoms, etc .:

Connecting two transceivers in completely different places through the network so that they work as a repeater. Thus, the coordination of two groups of users in different places is carried out:

Controlling and voice communication with a transceiver connected directly to the operator's computer – for ease of operation or, for example, for playback pre-recorded messages or announcements (auto informer mode):



How does Ruspo Relay work?
When installed on a computer, Ruspo Relay allows you to select a sound subsystem (audio adapter) for operation.
Then, you need to connect the PC to the radio or other analog audio device. This can be done in one of the proposed ways (more details in the instructions and here).
You can also use an inexpensive ready-made solution — an interface (see, for example, here: https://2491040.ru/avtoinf.html ; the interface developer also adapts it to various devices and customizes the program.)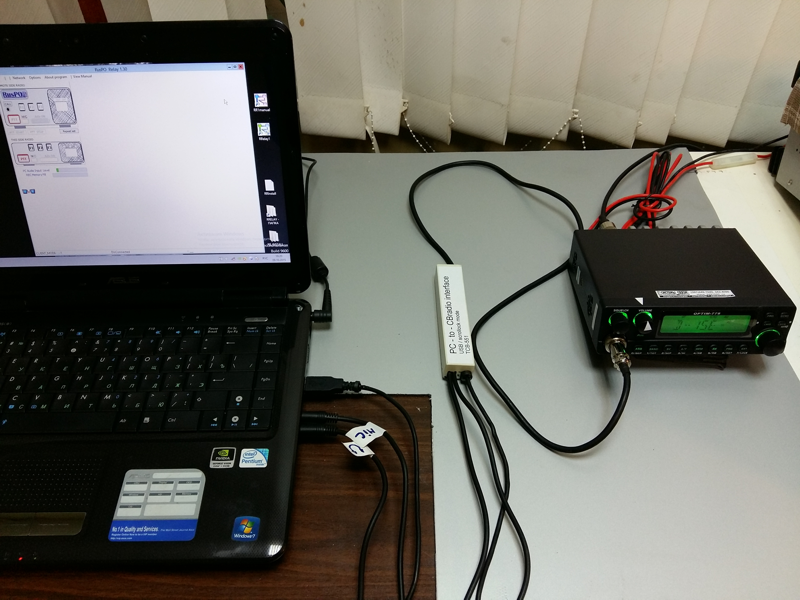 Then make settings for sound and connections. Each program instance can be configured both as a server (accepting the connection) and as a client (initiating the connection). The radio or other analog device (intercom, microphone, etc.) can be connected to both the client and the server. In the case of the implementation of the Internet repeater scheme, the devices are connected to both computers tied in a bridge.
For connection may be used a local network or the Internet.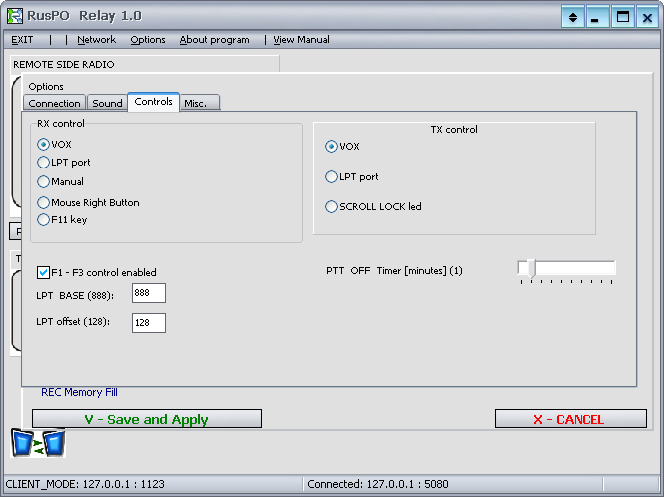 Unlike some other solutions, Relay 1 does not require, in general, any third-party services to work. However, until recently, as in the case of any client-server application, a fixed IP address was required for connection to the server side. Now the possibilities of using the program have become even wider. Since October 2017, Ruspo Relay 1 users can interconnect different instances of the program through the Remote Repeater service (read more here: https://blog1.ruspo.com/blog/new-options-of-ruspo-relay-1/ ).
At the final stage, a test connection is made and a test is made. In addition to the basic functions (control of reception / transmission, listening to the air and voice transmission), there is an opportunity of using of some additional ones, such as auto informer, additional channels control and others.
After configuration, the program can work without the participation of the operator. If the network connection is lost, the program try to restore the connection at various intervals.
More information about configuring the program and various settings can be found in the instructions on the official website of the developer: https://ruspo.com/RR1manual_en.html

Similar and competing solutions: Ruspo Relay vs Yaesu Wires-X
The Ruspo Relay program is an original development that uses advanced solutions in the field of digitization, compression and transmission of sound. No direct analogues of the program have yet been found, but there are similar functional solutions from individual manufacturers of radio equipment. In particular, among radio amateurs and professionals, Yaesu Wires-X VoIP solution is well-known (https://www.yaesu.com/jp/en/wires-x/index.php ). This solution has proven itself well, but its application is relevant only when using Yaesu radio equipment. Moreover, Yaesu Wires-X is designed to connect only Yaesu radios that have the appropriate Mini-DIN interface connector, and you also need to buy an Internet Linking Kit HRI-200 and a special cable. However, among the existing solutions, this is the most worthy object for comparison.
Detailed consideration of both solutions shows the following advantages of Ruspo Relay 1:
+ Ruspo Relay 1 software is vendor-independent: it does not require the purchase of a proprietary interface and cable for connection to the radio, it is not tied to any particular type or model of the device; a person who is a little bit familiar with electronics, can connect a two-way radio or another audio device to a PC according to the instructions for the program, using inexpensive and accessible components, moreover, in several different ways;
+ Ruspo Relay 1 does not require, in general, any third-party services for the operation; if the connection is made via a local network, the voice signal does not leave the local network; if the connection is made via the Internet, you can ensure high confidentiality of conversation by working within a virtual private network (VPN);
+ Ruspo Relay 1 is not demanding on computer resources – when testing on a PC with a single-core Celeron 2.4 GHz processor and 512 MB of RAM (OS Windows XP SP2), there were no delays or hang-ups; no additional audio drivers and codecs are required; a similar 10-year-old computer may be found practically for free, and it is not a pity to allocate it to connect to the radio;
+ Due to the good voice signal compression, Ruspo Relay 1 is not demanding on data transfer network resources; it was tested even with GPRS and dial-up modem connection; it works fine through wireless networks of mobile operators, various routers and hubs; the program uses 1 TCP and 2 UDP ports (for comparison, Wires-X requires 6 UDP ports and a connection of at least 8 MBpS);
+ The Ruspo Relay 1 program goes localized in Russian, English and Spanish languages and is additionally compatible with Localizator (a simple and convenient tool for translating correctly the user interface of the program into any language or even a dialect by the user himself – http://ruspo.com/loc.htm );
+ Ruspo Relay 1 has unique features:
Auto informer / radio beacon (playback of pre-recorded messages or announcements), moreover, the file of a new message can be transmitted to the target computer remotely;
management of additional channels for re-configuring the radio or device.

Software price and distribution terms
The Ruspo Relay 1 program is paid, but it has a free demo version, which is available for download on the official website https://ruspo.com . The demo version of the program has certain limitations (https://ruspo.com/RR1_demo_lim_en.htm ), but it allows you to familiarize yourself with the program's capabilities, to experiment with connections and decide whether this program is a right fit for you.
The price of the paid version of the program varies (for different distributors ) about $ 100-125.
The program (technically) allows you to use several copies of the software on one computer, which allows you to achieve additional savings when several radios or audio devices are connected to one computer.